Distance education has become more accessible than ever before because of technological improvements, with most schools and universities in the world now offering a wide selection of online studying programs. Moreover, to combat the spread of COVID-19, an increasing number of students are studying through online platforms. However, there are many debates recently about online learning and in-person classes to choose which is better. We all know both forms of studying have pros and cons, and in this article, the Write My Essay For Me team will discuss it and try to find what kind of learning is better.
Online learning has existed in recent years due to the development of technology and online conferencing platforms such as Zoom, Teams, or Google meets. However, it is expanding recently due to the effect of the COVID-19 pandemic. With online learning, students can easily access the Internet to search for the answer to the question while learning. The lessons of the class can be recorded, and students can view them anytime they need. With college or university students, online learning will help decrease tuition fees and boarding costs such as gas, transportation, house rent, etc. Students can save a lot of money from this fee, and they can use the money for higher education or other purposes. Online learning makes education more accessible when you can access your class from anywhere with digital devices and Internet access. Technology can also enable teachers to apply a new kind of teaching – 'gamification', also known as play-based learning. It is the way that students can learn new knowledge or revise lessons while playing games. This teaching method makes students feel more comfortable while they are studying. In addition, the class can be more silent and disciplined while studying online because teachers can mute the sound of students, or they can see the actions of students through the computers' cameras.
However, the main drawback of online learning is the discipline of students and the management of teachers. Teachers cannot always control the behavior of students while learning. Some students can turn off their cameras and do other jobs. Students can also neglect to study, or maybe they can cheat while doing the online test. Students can quickly get distracted because of games, television, social media, or anything which distracts them from focusing, and teachers can hardly control it. Besides, the Internet connection can be a significant problem for some students. Some students cannot have stable access to the Internet, which can be challenging for them to manifest their studies. Some students don't have equitable digital skills, making them unable to keep up with their peers and get left behind. Teachers who have insufficient digital skills might find it challenging to drive the class or transform information to students.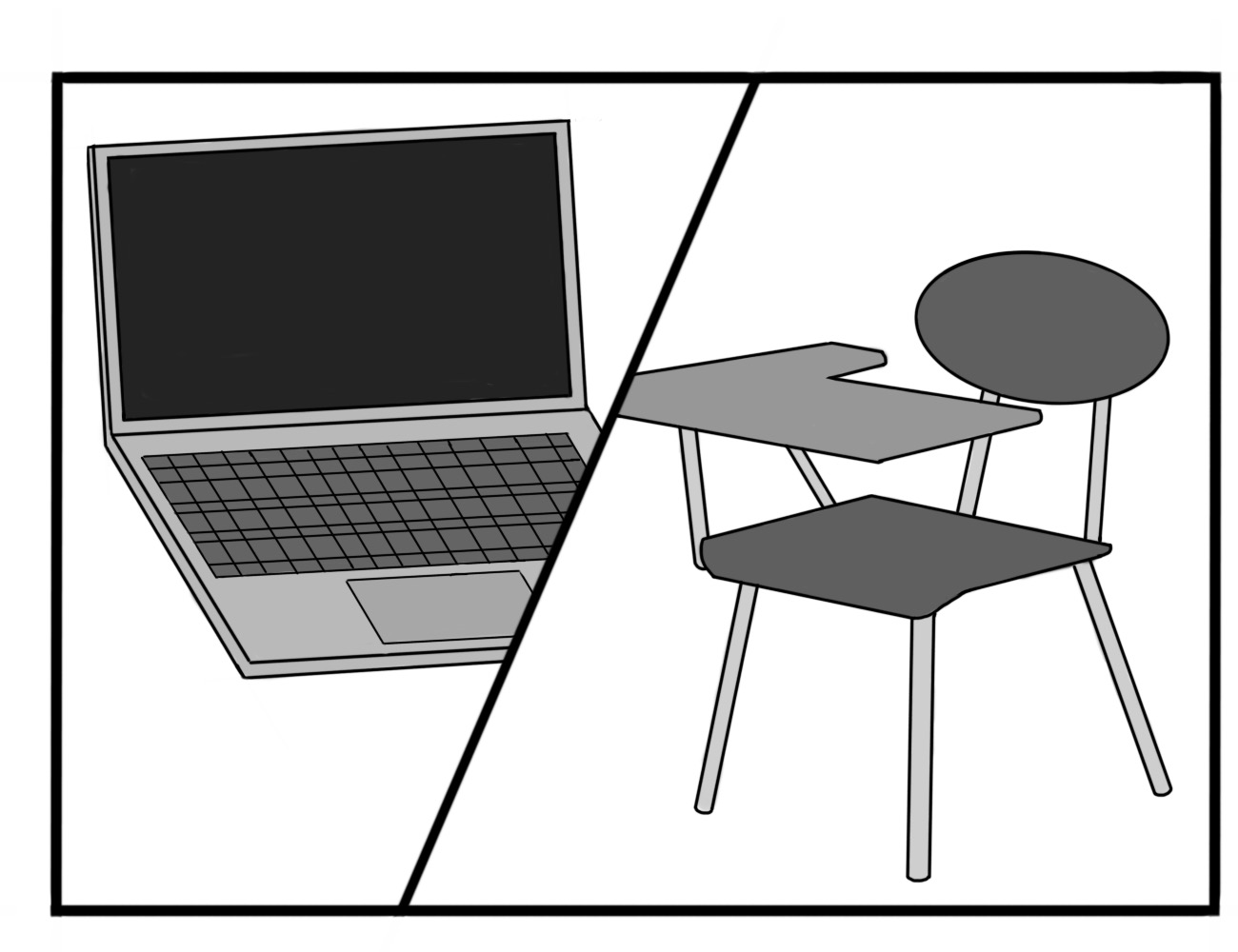 Turning to an in-person class is the traditional way of studying that humans have used for many centuries. The in-person class will enable students to hands-on learning, which will create opportunities for students to learn from experience. It is crucial in some major such as medical procedure, technology, or machinery. The in-person class can also provide focus and concentration. Teachers can observe students easily and notice their focus on study. Besides, human interactions of the in-person class will help students be more active and energetic, while studying online will be a barrier to social interaction. However, the in-person class also has limitations. Students might have to pay more costs for an in-person class. When choosing an in-person class, it is much more challenging to control the schedule more than online learning. One drawback of the in-person class is that you must go to school to achieve learning, while with online class, you can arrange study anywhere.
According to the Write My Essay For Me article, it's really hard to say which kind of class will win because it depends on each choice. Students who don't have much money and need a flexible schedule will find an online class is the best, while students who love social interactions or have lousy internet connections will love an in-person class. However, the results of the class are due to their effort and their attention while learning. Students have to study online due to the pandemic; it is not time for moaning or being sad. Whether you like online learning or not; you have to manifest it. Get prepared for class with careful academic research, questions for teachers, and an appropriate attitude; you will be alright.